IPR Faculty and electronic musician James Patrick releases his latest contribution to the arts and music world in collaboration with Minneapolis Chamber Music composer, Mary Ellen Childs.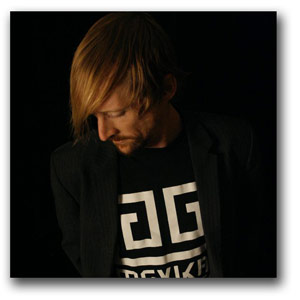 This 18 piece electro-acoustic concerto is a culmination of both years of chamber and new music compositions, as well as several years of collaboration between the composer (Childs) and the sound designer/producer (Patrick).   IPR asked James a few questions about the piece, in hope to bring some light into the world of such an artistic process.
IPR:  "How did this project begin?"
JP: "Through my own love of electronic music and my involvement in the local music community, circa 1994+, I have always participated in the projects that I believed in, regardless of the esteem or financial variable associated with it.   Through that ernest appreciation of all things musical and electronic, I played many low paying gigs and worked my proverbial butt off in the pursuit of carving out a lifestyle involving what I loved.    Eventually, I was contacted by some students at the University of Minnesota's Electronic Music Club.  This was around the year 2000.   They were throwing an academic electronic music festival, eventually to be tagged the "Spark Festival,."  At the time, the club had no money and no real plan.  We all sat down and made something happen.   We planned a few nights of music and had a great time.    After doing that a few years in a row, the University granted us a budget.   The project gained momentum, and after about 10 years there was enough momentum to mention Spark Fest anywhere in the United States and get an instant red carpet treatment.   That was huge for me in my early career.   Being a curator at that point of this festival connected me with countless composers, musicians, producers, and artists.  It is through those connections that I met Mary Ellen Childs.   She heard my work and fell in love with my intentional usage of the interplay between dissonance, consonance, realism, escapism, and the other variables that make "hand crafted" electronic music truly unique.
IPR:  How does one actually go about collaborating between electronics and acoustic music?
JP: "In the beginning, it's just about exchanging a few emails and attaching a few 'stems. Here are the stems from our session the other day… we'd love for it to feel like this…' After fleshing out a few solid mixes.. then we all get together. The musicians then learn their new parts, and play along with, or through the processing, effects, etc that I have prepared. The original stems are never even used in this context, only a jump off point for me, the producer and sound designer, to get ideas from. Finally. the piece is finalized and then set to a score or performance art. In this case, a NYC dance and chamber music troupe with whom the premier was realized in NYC last winter."
IPR: What are your favorite moments?
JP: "My favorite moments are when there is no line between electronic and acoustic, but more so a single semblance of a whole that can take a listener somewhere special.  We realized that thoroughly with a few selections on the album, but I don't want you to be partial to any single piece. Just play it from start to finish. That's how we used to listen to 'Albums."
IPR:  Where do you feel that this field or medium is going in the future?
JP: "In the already present future, everyone has a laptop. Everyone is running Ableton Live or some equally powerful software (which there currently is none), and everyone is realizing their own artistic vision. That's my vision for the future. The cool thing is, it's already happening."