The Current Host Barb Abney Makes Her First Appearance on IPR's DIY 360
Today at 3-4pm, Robinson Hall
The Institute of Production & Recording
300 1st Ave North, Suite 500
Host Kevin Bowe has been working for a while to make an appearance from Barb Abney Happen at IPR's DIY 360 event. Barb is currently the early daytime host of The Current, a member-supported radio station focused on playing new and popular music, part of Minnesota Public Radio. The Current is rather unique within the public radio sphere in its programing and features not only a devout local following but a substantial national and global listenership via digital and terrestrial broadcast.
Barb Abney herself is currently the early daytime host, playing weekdays from 10 a.m. to 2 p.m.  According to her biography, "Abney came to The Current in 2006 from Cincinnati's WOXY.com, one of the premiere alternative stations in the country. She DJ'd there for 12 years and built a radio and online community of music nerds."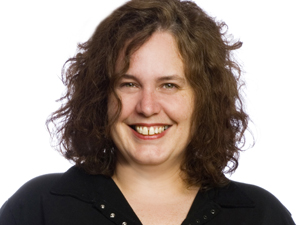 Image courtesy of The Current website.
Read about and listen to Barb's past features here, on The Current website.
More about the current (from The Current website):
"The Current began broadcasting in 2005 as a non-commercial, member-supported radio station based in Minneapolis / St. Paul, heard on 89.3 KCMP FM. Since then, the station has grown into a far-reaching community with members and listeners joining in from around the world. The Current brings listeners the best authentic new music alongside the music that inspired it, from local to legendary, indie to influential, new to nostalgic. The phone number for The Current studio is 651 989-4893."
More about DIY 360:
DIY 360 is a recurring event at IPR hosted by Kevin Bowe. The goal is to introduce students to professionals in the field who have been successful, frequently by adapting to changes in the business where they make use of multiple skill sets. Guests share information about their careers, their philosophies about professionalism and their art. Guests often give advice to budding artists, entertainment business professionals, producers and engineers. DIY 360 is an opportunity for students to network with those working in the field and with each other as they work toward career success.